.
At a recent event at the Azure Sales Gallery, celebrity Chef Lee Anne Wong shared her favorite places to eat in the Midtown Ala Moana neighborhood. A former Top Chef contestant, as well as a Food Network host and judge, Chef Wong's work has taken her to kitchens around the world. But this New York native now calls Hawaii home, and her  knowledgeable insights into the local culinary scene make us hungry for more! Here are some snippets from her presentation…
.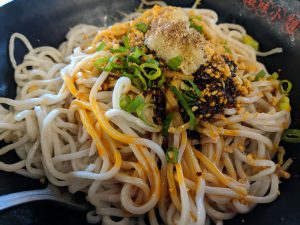 "The szechuan cold noodles here are a must. The tingle of the szechuan peppercorns and heat of the chili make this black vinegar laced house specialty the best version I've had yet in Honolulu!"
Address: 808 Sheridan Street, 1st Floor
Hours: Monday, Wednesday – Sunday (closed Tuesday), 11:00 am – 3:00 pm, 5:00 pm – 9:00 pm
.
.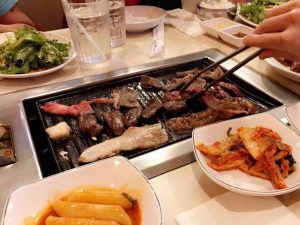 "While it's not the fanciest restaurant, this Korean BBQ spot is one of my favorites. Get the BBQ combo sets (we love set B) and delicious additions such as meat jun, spicy rice cakes, and handmade mandoo."
Address: 626 Sheridan Street
Hours: Monday – Thursday, 11:00 am – 11:00 pm; Friday – Sunday, 11:00 am – 12:00 am
.
MW Restaurant
"Power chef couple Michelle and Wade Ueoka serve up some of the most creative modern Hawaiian cuisine in town. With a focus on local ingredients, Wade's savory menus have captured the hearts and stomachs of locals and tourists alike, and Michelle is seriously the best pastry chef in the state of Hawaii, so save room for dessert!"
Address: 1538 Kapiolani Boulevard
Hours: Monday – Friday, Lunch 10:30 am – 4:00 pm; Sunday – Thursday, Dinner, 4:00 – 9:00 pm; Friday – Saturday, Dinner, 4:00 – 10:00 pm
.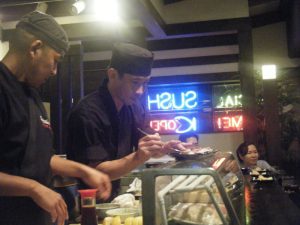 "For sushi perfection, Sasabune is a classic. Chef's Omakase is the way to go. Order a bottle of ice cold sake and enjoy with perfect jewel like bites of the freshest raw fish around."
Address: 1417 S. King Street
Hours: Tuesday – Saturday, 5:30 pm – 9:30 pm
.
.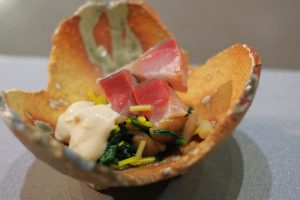 "This modern Japanese kaiseki style meal is the best deal in town. Reserve a counter seat and watch the nightly show as the kitchen takes center stage, and you delight in each seasonal course, eating off of handcrafted Japanese pottery."
Address: 560 Pensacola Street
Hours: Thursday – Monday (closed Tuesday & Wednesday), 6:00 pm – 12:00 am

Want to see the more of  Chef Lee Anne's Midtown Favorites?
Download her full presentation here.
Back To Main