This month, significant activity is taking place at the Azure Ala Moana construction site. The construction team led by general contractor Albert C. Kobayashi, Inc. is working on excavating and pouring the two mat foundations underneath the tower – the massive, steel-reinforced concrete slabs that provide the primary support for the building. Both mats are approximately eight feet thick with the makai mat measuring at 2,300 square feet in area, and the mauka mat at an amazing 3,140 square feet.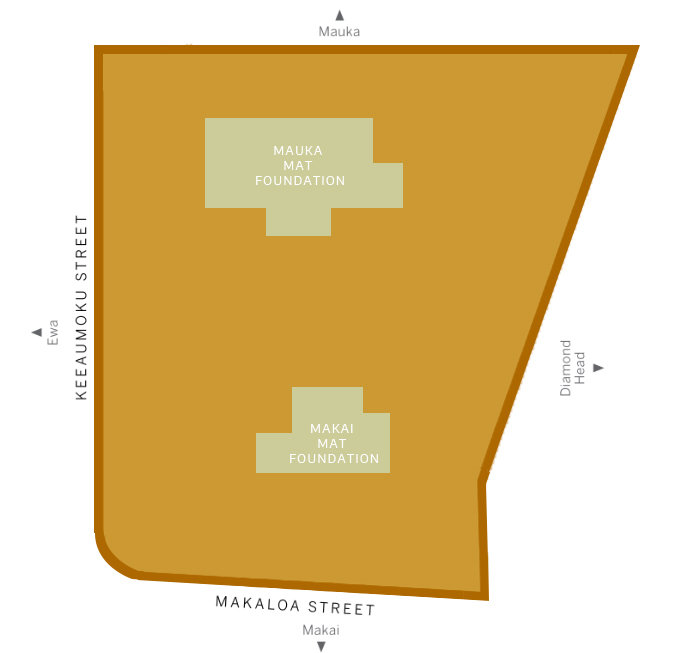 The highlight of this process is the pouring of over 1,600 cubic yards of concrete into the excavated ground – something that requires a procession of 160 ready-mix trucks! Read more about this process below…
· The contractors chip the piles (there are more than 40 piles below each mat foundation!) down to the desired depth.
· Azure's masonry team pours the concrete waste slab – the flat surface at the bottom of the pit to which the waterproofing materials will be applied.
· Carpenters arrive onsite to form the sides of the foundation. The forms will also assist the waterproofing contractor in applying the required waterproofing material.
· Reinforcing steel is installed in the forms in preparation for the concrete to be poured.
· The procession of ready-mix trucks arrives to the site to pour the concrete into the excavated pits one after another, using concrete pumps and taking up to six hours per foundation.
· A couple of days after the pour, carpenters and laborers strip the formwork, and the remaining waterproofing is applied.
With all that critical work accomplished by mid-September, we will remain on schedule to begin vertical work starting this Fall. If you would like to see the exciting progress in real time, pay us a visit at our Sales Gallery!
Back To Main